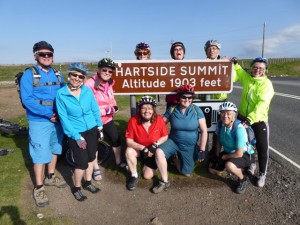 A few facts…..
We're a group of cyclists based in the north east of England, working together to offer a selection of different riding routes and experiences.
We ride mountain bikes and prefer off-road, car free trails and cycle-paths , of which there are a many miles in the north east of England.
The vast majority of the group are retired, with a group mix of 70 to 30 percent female to male.
None of the group were regular cyclists, let alone mountain bikers, before joining Cycle-Treks.
In the last few years we've completed a range of recognised cycling challenges including the Coast to Coast, Coast & Castles, Hadrians Way, Reivers, Walney to Wear, Scottish 5 Ferries, PennineCycle Way and trips to Holland.
We ride at a leisurely pace, stopping regularly to admire views and we all enjoy a coffee and cake break.